As you may remember I lost my job back in May. It has been quite a roller-coaster for me ever since. I had a nervous break-down and on May 20th I attempted suicide. It was not a cry for help I had no intention to be found and saved. I did my research, I thought I took enough pills. However as fate would have it my husband found me and took me to the hospital. I can't tell how mortified I was to open my eyes and see my father, husband, brother and step-mother around my bed. My father immediately began to chastise me – he really doesn't deal with emotions very well and I don't think he ever expected to hear that his first born had tired to take her own life.
In the initial days after the incident all I could say to everyone was I'm sorry but I don't know what to tell you because I had intention of having these conversations. I have been diagnosed with some sort of disorder – would you believe I can't remember the name of it. But basically I have never learnt to deal with stress well – the way normal people do.
My husband never came back home after I came out of hospital. He just couldn't deal with what I had done, he felt I didn't love him, so he left home. Can you imagine what first month in my second chance life was for me? Challenging and surreal would be the best description.
So its August now – 3 months later and I'm still here. I feel stronger than I have ever felt in my life (this was actually my 3 rd attempt and definitely the most public). I had such an out pouring of love from my friends and family and this has had a profound affect on me and the way I see myself. My husband and I now live apart but we are building bridges.
But I believe the most important ingredient in my recovery was that I started building my on-line business. In all this chaos I set-up my own website, started this blog, made my first affiliate sales, learned to use Kompozer, and so much more. Developing my on-line business has been such a cathartic experience for me. I am not as far along as I had planned before the shit hit the fan, but I've made progress which I am now really proud of.
Back to work for me on Monday and I must say I am really happy about that for a number of reasons. Its no fun trying to build a business with no dinero and I need the distraction of work and other adult company – keeps the darkness away.  Yes I will have less time to devote to my business but a little pressure will do me the world of good, less time to think.
My first product Electric List Building has been a work in progress for some time now and I would like to publicly declare that I will have that ready for sale by the end of October. I have done the first draft, its all over the place but its everything I want to say. I will continue with my email marketing and list building and I have been looking into ways of making more with PLR products.
With Internet Marketing as with life, you just have to have the tenacity to just keep going – no matter what obstacles you may face. It makes such a huge difference if you have a plan. I developed my plan and even though the dates have been shifted the plan is solid and I refer to it often.
I have decided to get a new tattoo to commemorate my second chance.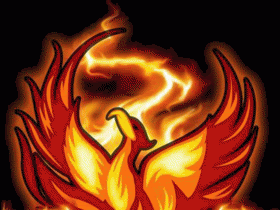 Its a phoenix and he will go on my leg to cover a scar I got when I cut myself a few years ago. It will not look exactly like this as I only like original work so my sister is working on her version of this for me. I will put the date at the bottom as well   20-05-13 the date of my rebirth.
The most important lesson for me is that things always get better. No matter how wrong they are now, there is always hope and if you look for good things, they always appear.

The following two tabs change content below.
My name is Tsahai De Silva and Internet Marketing is my passion. Join me in my journey and as I learn and fine tune my skills. My aim is to earn $100K this year and then teach others to do the same.